This Weekend: Holiday Lighted Boat Parade and Parol Lantern Festival
This Weekend: Holiday Lighted Boat Parade and Parol Lantern Festival
Events: A handful of fun events will be taking place around town this weekend beginning with the annual Holiday Lights Boat Parade along Fisherman's Wharf this Friday evening. Also beginning Friday with shows throughout the weekend, the Circus Center Winter Showcase will take audiences on a journey through dark and light with aerialists, acrobats and much more. Head over to the Yerba Buena Center in SoMa on Saturday for 17th annual Parol Lantern Festival and Parade. Read more about our featured events below.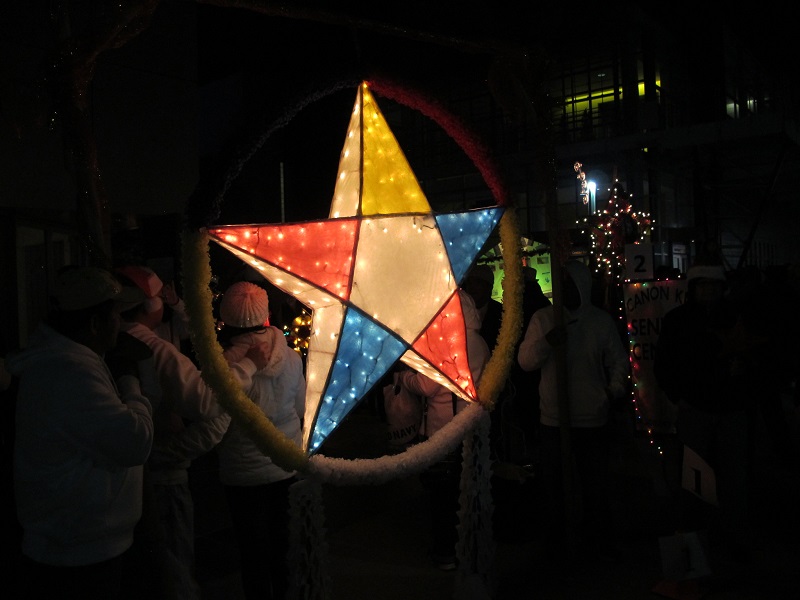 A parol lantern, one of many, that adorned the Parol Lantern Festival in 2011. Photo: Gary Stevens/Flickr
Holiday Lighted Boat Parade
Friday, 6 to 8 p.m.
Fisherman's Wharf/Pier 39
A holiday tradition since 1994, the Lighted Boat Parade on the Bay has been ushering in the holidays in style for over two decades. Members of the St. Francis Yacht Club , Fisherman's Wharf Fishing Fleet, Golden Gate Yacht Club, Pier 39 Marina participate in the festive spectacle that showcases a parade of boats festooned with lights and holiday decorations. The parade route starts just off of Pier 39, heads west past Fisherman's Wharf, Fort Mason and the St. Francis Yacht Club then turns back at Crissy Field to return to Pier 39.
---
How to Get There on Muni: The parade will pass along most of the north waterfront, so there numerous Muni options that will get riders a good view including the Mason and Hyde cable car lines, the E Embarcadero or F Market and Wharves lines as well as the 8 Bayshore, 19 Polk, 22 Fillmore, 28 19th Avenue, 30 Stockton, 43 Masonic, 47 Van Ness, and 49 Van Ness/Mission routes.
Muni Service Notes: There are no planned service changes for this event.
Parol Lantern Festival and Parade
Saturday, 4 to 8 p.m.
SoMa
Another holiday tradition, the Parol Lantern Festival and Parade returns to the Yerba Buena Gardens in SoMa this Saturday. The parol star lanterns that will decorate the Yerba Buena Gardens are a quintessential symbol of holiday hope, luck and peace in Filipino culture. The event will also offer up traditional Filipino foods, live music and performances, and a short parade that begins and ends at Jessie Square between Mission and Market streets.
How to Get There on Muni: Riders may take any Muni Metro line towards downtown to Powell Station, the F Market and Wharves Line, any Market Street bus route as well as the 8 Bayshore, 10 Townsend, 12 Folsom/Pacific, 14 Mission, 14R Mission Rapid, 27 Bryant, 30 Stockton, or the 45 Union/Stockton routes.
Muni Service Notes: There are no planned service changes for this event.
Remember that you can take Muni for the entire day for a single $5 fare. The new $5 Day Pass, available on MuniMobile®, is part of Muni's recent fare changes. The pass is intended to encourage a safe, convenient way to pay your fare and quickly board Muni vehicles, which reduces overall travel time for everyone. The $5 Day Pass is Muni bus, rail and historic streetcars only.
"On Tap" gives you a heads up about the big events in town and what Muni routes and lines will get you to the party. Look for this feature to be posted usually on Thursdays for a look ahead to the weekend. Check out our
Weekend Traffic & Transit Advisory
for more details.
Published December 13, 2019 at 08:00PM